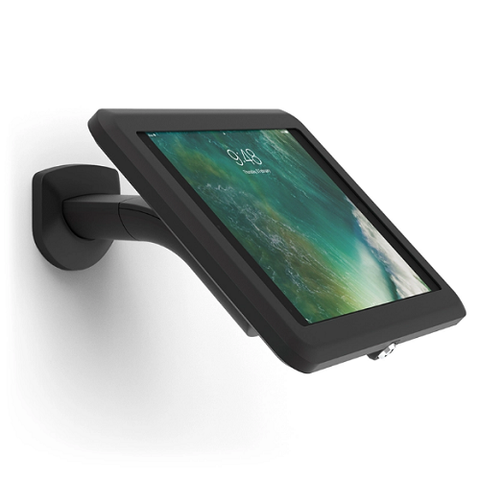 ---

NEED ASSISTANCE
Call 1300 003 767, Live Chat, mail admin@easypos.net.au

FAST SHIPPING
Fast Processing & Shipping

ONE APP FOR ALL YOUR POS NEEDS
EasyPOS Australia Download on the App Store & Google Play
The Elite Evo Wall Mount Tablet & iPad Holder
SKU: E01-EVSC-1
Featuring a highly secure yet durable design, the Elite enclosure and Evo Wall Mount tablet holder is the perfect option for a tablet or kiosk in the most rugged of commercial environments. The enclosure offers high security and durability in a sleek and stylish casing, while the stand is screw mounted to the surface of choice.
4 Point Lock
The Elite Evo Wall Mount tablet holder features a lockable faceplate that secures with a barrel key and four-point lock for ultimate security. As an additional security option, unique key and barrel sets are also available. The Elite Evo Wall Mount tablet holder is ideal for high-traffic areas or any commercial or educational environment where additional layers of security may be required for your device.
Internal Cable Management
Keep your tablet charged with internal cable management in the fully enclosed case. The Elite Evo Wall Mount tablet stand features two cable management options including the ability to discreetly run your cable from the device through the Elite case and Evo pole, or alternatively, run the cable directly though the included cable cut out in the case's rear.
Desktop Mount Option
The Evo Wall Mount base is also desktop mountable. When mounting on a counter-top, you can either mount from above and cover screws with the base cover or alternatively screw from below for a sleek mounting option.
Construction
The Elite Evo Wall Mount features strong powder coated metal designed to withstand the toughest commercial environments. Each part has been carefully custom designed to create a sleek and stylish tablet stand.
---

NEED ASSISTANCE
Call 1300 003 767, Live Chat, mail admin@easypos.net.au

FAST SHIPPING
Fast Processing & Shipping

ONE APP FOR ALL YOUR POS NEEDS
EasyPOS Australia Download on the App Store & Google Play
---
We Also Recommend