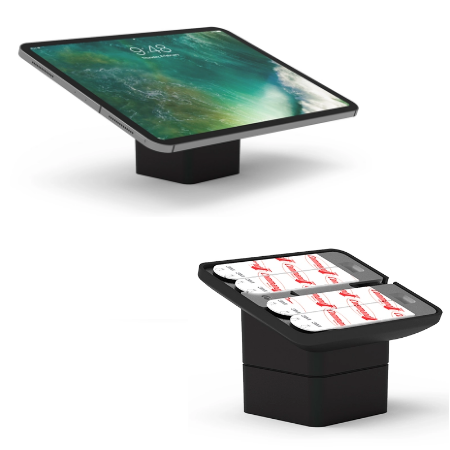 ---

NEED ASSISTANCE
Call 1300 003 767, Live Chat, mail admin@easypos.net.au

FAST SHIPPING
Fast Processing & Shipping

ONE APP FOR ALL YOUR POS NEEDS
EasyPOS Australia Download on the App Store & Google Play
The Touch Nexus Tablet & iPad Stand
SKU: TO-NX-1
The Touch Nexus tablet stand has been carefully designed to securely display your tablet without any case, clamps or cables needed. Display your tablet as it is was designed – slim, sleek and unobstructed. The Nexus stand sits low to the surface offering the perfect solution for desk or countertop mounting in retail, hospitality, education or business environments.
Measuring 3.70" (94mm) high, the Touch Nexus tablet stand is ideal for use when sitting at a desk or standing at a counter, and features a 180-degree swivel.
Universal
Might update your iPad or android tablet in the future? The Touch Nexus tablet holder supports all devices and is secured by your choice of two different strong 3M adhesives included with the stand.
– Supports any tablet
– Easily remove your device and upgrade
Movement
The Touch Nexus tablet stand can be installed in either portrait or landscape and includes a 180-degree swivel, which is perfect for customer-facing Point Of Sale (POS) and kiosk stands. This stand also features a swivel lock to fix the tablet in position.
Mounting Options
With the Touch Nexus tablet stand there are 3 mounting choices for you to easily mount this tablet holder to a table or countertop for a desktop display.
Both screws and a 3M adhesive pad are included with each stand.
Cable Management
Easily charge your device with internal cable routing through the Touch bracket and down the stand. The cable can either go through the mounting surface or out the back of the stand depending on your use case. The Touch Nexus tablet stand also allows you immediate access to all ports on your device. Want to add headphones? No problem. This is a stand that offers unobstructed access to all ports and any buttons or controls on your tablet device.
---

NEED ASSISTANCE
Call 1300 003 767, Live Chat, mail admin@easypos.net.au

FAST SHIPPING
Fast Processing & Shipping

ONE APP FOR ALL YOUR POS NEEDS
EasyPOS Australia Download on the App Store & Google Play
---
We Also Recommend