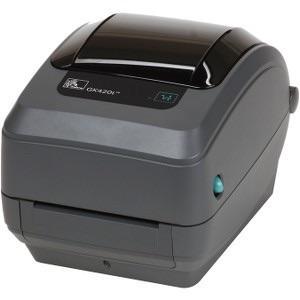 ---

NEED ASSISTANCE
Call 1300 003 767, Live Chat, mail admin@easypos.net.au

FAST SHIPPING
Fast Processing & Shipping

ONE APP FOR ALL YOUR POS NEEDS
EasyPOS Australia Download on the App Store & Google Play
Zebra GK420T THERMAL TRANSFER USB ETHERNET 4IN BARCODE LABEL PRINTER
SKU: 2901932
GK420t Label Printer
The Zebra enhanced GK420t thermal transfer printer offers the best value in a basic desktop printer, featuring a fast 5 inches per second print speed to meet your low- to medium-volume printing requirements. The GK420t has a sleek and compact design, boasts the easiest ribbon loading system on the market, and supports a variety of applications and industries
Manufacturer Part Number
GK42-1022P0-000
Full Product Specifications
---
Note:
The full product specifications below are from the manufacturer and may contain information related to other package quantities that will not apply to the product that you are reviewing. Please confirm the actual content and/or package quantity from the main product specifications page.
These specifications may represent the entire product series/model/line to which this product belongs with specific configuration differences between the individual products stated.
These specifications may have been copied from the same product in other region/country in which case there might be minor differences in region-specific data such as Input Voltage, Terms of Warranty etc.
Standard Features
Print speed: up to 5" (127 mm) per second
Print method: direct thermal/thermal transfer
EPL and ZPL programming languages standard
More Standard Features
OpenACCESS design for easy media loading
Quick and easy ribbon loading system
Dual-wall reinforced plastic construction
32 bit RISC processor
XML-enabled printing
Printer Specifications
Resolution: 203 dpi (8 dots/mm)
Memory: Standard: 8 MB SDRAM (3 MB available to end user); 4 MB Flash (1.5 MB available to end user)
Print width: 4.09" (104 mm)
Print length: 39" (991 mm)
Print speed: 5" (127 mm)/sec
Media sensors: Reflective, Transmissive
Media Characteristics
Maximum label and liner width: 4.25" (108 mm)
Minimum label and liner width: 0.75" (19 mm)
Maximum label and liner length: 0.38" (9.7 mm) to 39" (991 mm)
Maximum roll diameter: 5" (127 mm)
Core diameter: 0.5" (12.7 mm), 1.0" (25.4 mm), 1.5" (37.1 mm)
Media thickness: 0.003" (0.08 mm) to 0.0075" (0.20 mm)
Media types: black bar, black mark, continuous, continuous receipt, die-cut, fanfold, gap, notched, perforated, receipt, roll-fed, tag, tag stock
Ribbon Characteristics
Outside diameter: 1.34" (34 mm)
Standard length: 244' (74 m)
Ratio: 1:1

Ribbon width
Recommended to be at least as wide as media
1.33" (33.8 mm) to 4.3" (110 mm)

ID Core: 0.5" (12.7 mm)
Operating Characteristics
Operating temperatureTT: Operating temperature: 40° F (5° C) to 105° F (41° C)
Thermal transfer DT: Operating temperature: 40° F (5° C) to 105° F (41° C)
Direct thermal Storage temperatures: -40° F (-40° C) to 140° F (60° C)
Operating humidity: 10-90% non-condensing
Storage humidity: 5-95% non-condensing
Electrical: Auto-detecable (PFC Compliant) 100-240 VAC, 50-60 Hz

Agency approvals
FCC Part 15
Subpart 15
VCCI
C-Tick
EN55022 Class-B
EN6100-3-2
EN6100-3-3
EN55024
CCC
CB Scheme IEC 60950: 1991 +A1 +A2 + A3 +A4
TUV NRTL
IRAM
NOM
AAMI
Physical Characteristics
Width: 7.6" (194 mm)
Height: 7.5" (191 mm)
Depth: 10" (254 mm)
Weight: 4.6 lbs (2.1 kg)
Shipping weight: 9.1 lbs (4.1 kg)
Orientation Center
Related Products
Options
10/100 internal Ethernet connectivity
Dispenser - label peel and present with present sensor
Asian font sets
Communication and Interface Capabilities
Auto-sensing Serial RS-232 (DB-9)
USB V1.1, bi-directional
Centronics Parallel
10/100 internal Ethernet (replaces parallel port)
Programming Languages
Core programming languages: EPL2, ZPL I/ZPL II
Bar Codes/Symbologies
Linear Codabar
Code 11
Code 128
Code 128 with subsets A/B/C
Code 39
Code 93
EAN-13
EAN-14
EAN-8
EAN-8 and EAN-13 with 2 or 5 digit extensions
German Post Code
Industrial 2-of-5
Interleaved 2-of-5
Japanese Postnet
Logmars
MSI
MSI-3
Plessey
Postnet
RSS (reduced space symbology)
Standard 2-of-5
UCC/EAN-128
UPC and EAN 2 or 5 digit extensions
UPC-A
UPC-A and UPC-E with 2 or 5 digit extensions
UPC-A and UPC-E with EAN 2 or 5 digit extensions
UPC-E
2-dimensional Aztec
Codablock
Code 49
Data Matrix
MacroPDF417
MaxiCode
MicroPDF417
PDF417
QR Code
RSS / GS1 DataBar family (12 barcodes)

Fonts and Graphics
16 resident expandable ZPL II bitmap fonts
One resident scalable ZPL font
Five resident expandable EPL2 bitmap fonts
Supports user-defined fonts and graphics - including customer logos
---

NEED ASSISTANCE
Call 1300 003 767, Live Chat, mail admin@easypos.net.au

FAST SHIPPING
Fast Processing & Shipping

ONE APP FOR ALL YOUR POS NEEDS
EasyPOS Australia Download on the App Store & Google Play
---
We Also Recommend