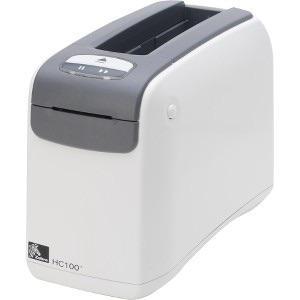 ---

NEED ASSISTANCE
Call 1300 003 767, Live Chat, mail admin@easypos.net.au

FAST SHIPPING
Fast Processing & Shipping

ONE APP FOR ALL YOUR POS NEEDS
EasyPOS Australia Download on the App Store & Google Play
Zebra HC100 WRISTBAND PRINTER DIRECT THERMAL AUSTRALIAN/JAPANESE/UK CORDS ZPL II XML SERIAL USB INT 10/100
SKU: 2914951
HC100 Wristband Printer
A total solution for wristband printing

Zebra's HC100TM wristband printer was developed to maximize ease of use. Just pop the easy-to-load cartridges containing Zebra's Z-Band® wristbands into the printer—and print individual wristbands. The wide range of available wristbands are suitable for hospital patient identification as well as guest identification at hospitality venues and attractions such as amusement parks, sporting events and zoos.

It's easy-to-load feature requires minimal user action as the printer detects the wristband type and size and automatically calibrates the settings for optimal print quality and reduced waste. There is minimal training required to use the HC100—loading or switching the cartridge is a quick and simple task.
Manufacturer Part Number
HC100-300P-1100
Full Product Specifications
---
Note:
The full product specifications below are from the manufacturer and may contain information related to other package quantities that will not apply to the product that you are reviewing. Please confirm the actual content and/or package quantity from the main product specifications page.
These specifications may represent the entire product series/model/line to which this product belongs with specific configuration differences between the individual products stated.
These specifications may have been copied from the same product in other region/country in which case there might be minor differences in region-specific data such as Input Voltage, Terms of Warranty etc.
Standard Features

Print method: Direct thermal
Programming language: ZPL®
Construction: Dual-wall frame, impact resistant plastic
More Standard Features
Quick & easy wristband cartridge loading
Instant media calibration—no wasted media
32 bit RISC processor
Zebra E3™ Printhead Energy Control
Odometer for print length tracking
Illuminated media low/media out indicator
Tool-less printhead and platen replacement
Healthcare plastics
Unicode™ compliant for multi-language printing
XML-Enabled printing—allows XML communications from information systems
Standard tear-off mode feature
Dual communications interface: Serial & USB
Printer Specifications
Resolution: 300 dpi (12 dots/mm)
Print speed: 2" (51 mm)/sec (Healthcare), 4" (102 mm)/sec (Z-Band Fun & Z-Band Splash)
Storage temperatures: -40° F (-40° C) to 140° F (60° C)
Physical Characteristics
Width: 5" (127 mm)
Height: 7" (178 mm)
Depth: 9.5" (242 mm)
Weight: 3.1 lbs (1.4 kg)
Programming Languages
Core programming languages: XML, ZPL, ZPL I/ZPL II, ZPL II
Networking Options
10/100 Ethernet
802.11 b/g wireless LAN
Bar Codes/Symbologies
Linear Codabar
Code 11
Code 128
Code 39
Code 93
EAN-13
Industrial 2-of-5
Interleaved 2-of-5
Logmars
MSI
Plessey
Postnet
RSS (reduced space symbology)
Standard 2-of-5
UPC-A
UPC-A and UPC-E with EAN 2 or 5 digit extensions
UPC-E
2-dimensional Aztec
Codablock
Code 49
Data Matrix
MaxiCode
MicroPDF417
PDF417
QR Code
---

NEED ASSISTANCE
Call 1300 003 767, Live Chat, mail admin@easypos.net.au

FAST SHIPPING
Fast Processing & Shipping

ONE APP FOR ALL YOUR POS NEEDS
EasyPOS Australia Download on the App Store & Google Play
---
We Also Recommend