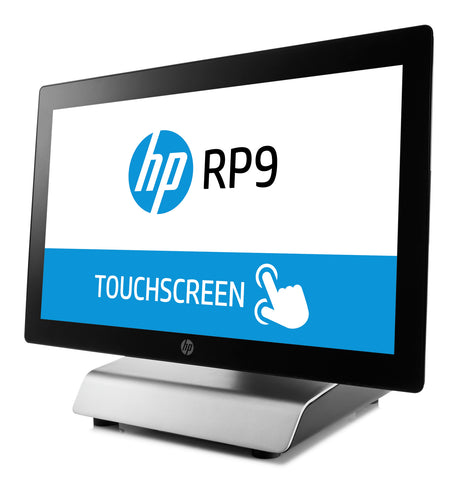 ---

NEED ASSISTANCE
Call 1300 003 767, Live Chat, mail admin@easypos.net.au

FAST SHIPPING
Fast Processing & Shipping

ONE APP FOR ALL YOUR POS NEEDS
EasyPOS Australia Download on the App Store & Google Play
HP RP9 9015 AiO POS Terminal i5 8GB RAM 256GB SSD 15.6P ERG STD W10P
SKU: TTHP71006309
HP RP9 9015 AiO POS Terminal i5 8GB RAM 256GB SSD 15.6P ERG STD W10P
Low stock, please contact us before ordering.
RP9 G1 Retail System
Make a big impression in a small footprint
Create a welcoming point of contact for your customers with a contemporary design that has edge-to-edge, 15.6 inch diagonal, 10-point multi-touch glass and optional integrated peripherals.
Powerhouse performer
Deploy the system—available with 6th generation Intel® processors, M.2 storage, a bay for a 2.5 inch SSD or HDD, efficient DDR4 memory, and wired or wireless network connectivity—anywhere you need a reliable, high-performance All-in-One.
Additional Features
- Easily show and share details on the optional customer facing touchscreen that's stylish, durable, and functional
- Pick the familiar operating system that's best suited to your environment.
- Complete your All-in-One with a range of hardware options, including the stand, operator display, and customer-facing displays, and integrated HP peripherals such as a barcode scanner, MSR, webcam, fingerprint reader, and more.
- Add devices and displays when you're ready with a range of connections, and select wired or wireless networking.
- Reduce power consumption and help lower your total cost of ownership with an energy-efficient design.
71003658 3ZM02AV - HP RP9 G1 15.6 All-in-One 9015 R002100001Component - Component Description
3ZM02AV - HP RP9 G1 15.6 AiO 9015 RPOS
3ZM10AV - Intel Core i5- 6500 4C
3ZM47AV - 8GB (1x8GB) DDR4 2133 SODIMM RAM
3ZM66AV - 256GB M.2 SATA TLC SSD
3ZK56AV - HP RP9 Ergonomic Stand (Tahiti)
1HH77AV - Electronic ENERGY STAR Label
3ZM86AV - HP RP9 w/Ergo Stand CKIT
3ZM86AV - Australia - English localization
3ZK75AV - Win 10 Pro 64
3ZK75AV - Australia - English localization
4FJ60AV - 3/3/3 AiO Warranty
4FJ60AV - Australia - English localization
SPECIFICATIONS
Form Factor Standard
Memory 8GB
OS Windows 10
Processor Core i5
Screen Size 15" to 16"
Screen Type Projective Capacitive
Storage (SSD) Solid State Drive
Storage Capacity < 250 GB
Model RP9
---

NEED ASSISTANCE
Call 1300 003 767, Live Chat, mail admin@easypos.net.au

FAST SHIPPING
Fast Processing & Shipping

ONE APP FOR ALL YOUR POS NEEDS
EasyPOS Australia Download on the App Store & Google Play
---
We Also Recommend