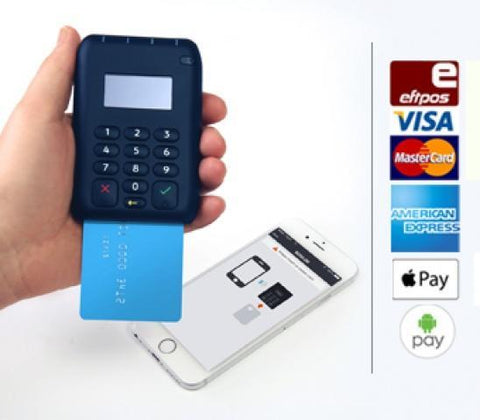 ---

NEED ASSISTANCE
Call 1300 003 767, Live Chat, mail admin@easypos.net.au

FAST SHIPPING
Fast Processing & Shipping

ONE APP FOR ALL YOUR POS NEEDS
EasyPOS Australia Download on the App Store & Google Play
Mint M10 Standalone Bundle
SKU: BU10625
Mint M10 Standalone Bundle
The Mint M10 terminal connects to your smartphone or tablet (iOS/Android) to deliver full eftpos terminal functionality. This terminal can be used to accept all card based payment types including:
- eftpos
- Visa, Mastercard, Amex, Diners
- Contactless, Chip and Mag stripe
- Apple Pay, Android Pay

The M10 can be used as a stand-alone terminal while connected to a smart phone or tablet but there are also tools available to connect to a range of POS software applications to provide a fully integrated POS/Payment solution as required.

Ideal for any business that accepts card based payments:
- Retail Stores
- Restaurants/Bars/Cafes
- Tradespeople
- Personal Trainers
- Cake Stalls
- Charity Events
- Tourist Operators
- Security Installers
- Mobile Mechanics
- Podiatrists/Physios
- Party Plan Operators
- Art Dealers and Galleries
- Franchise Operators for Delivery Home Services
- Schools
- Car Dealerships
- Bed and Breakfast Providers
Order the terminal, provide the merchant details sheet to Mint and they will run through the merchant approval process to get them on-line (3-5 working days).

There is no on-going monthly payment and a competitive MSF rate.

Box Contents:
Mint M10 Payment Terminal
USB charging cable
---

NEED ASSISTANCE
Call 1300 003 767, Live Chat, mail admin@easypos.net.au

FAST SHIPPING
Fast Processing & Shipping

ONE APP FOR ALL YOUR POS NEEDS
EasyPOS Australia Download on the App Store & Google Play