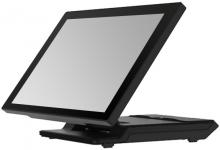 ---

NEED ASSISTANCE
Call 1300 003 767, Live Chat, mail admin@easypos.net.au

FAST SHIPPING
Fast Processing & Shipping

ONE APP FOR ALL YOUR POS NEEDS
EasyPOS Australia Download on the App Store & Google Play
NEXA NP-2160 15" POS Terminal
SKU: NP2160
NEXA NP-2160 15" POS Terminal
Sleek modern and designed to provide a POS platform that is second to none the NP-2160 is Nexa's premier POS terminal. 

While remaining at an aggresive price point the NP-2160 includes a range of high end features like toolless motherboard/ram/SSD replacement in 45 seconds PCAP touch 64GB SSD and 4GB of ram as well as a dual hinge design that allows the entire terminal to fold down to only 6.5cm thick. 

This thin form factor combined with a robust Aluminium-Zinc alloy case combine to make a vey stylish terminal that will enhance rather than detract from any retail or hospitality location.
Specifications
- 15" 1024 x 768 Screen 
- Intel Celeron J1900 Quad Core CPU 2Ghz with 2.4Ghz burst 
- 4GB Ram 64GB SSD 
- 3 x RS232 5 x USB 1 x Gigabit Lan 1 x cash draw port
No Operating System
Warranty
Warranty specified is Back to Base (BTB) warranty 
Warranty commencement date is date of hardware Invoice.
Warranty covers Manufacturers Faulty Workmanship 
Warranty excludes:
Power supply
Interface and Power Cables
Consumable products
Options
Software and Data Recovery
36 months
---

NEED ASSISTANCE
Call 1300 003 767, Live Chat, mail admin@easypos.net.au

FAST SHIPPING
Fast Processing & Shipping

ONE APP FOR ALL YOUR POS NEEDS
EasyPOS Australia Download on the App Store & Google Play
---
We Also Recommend