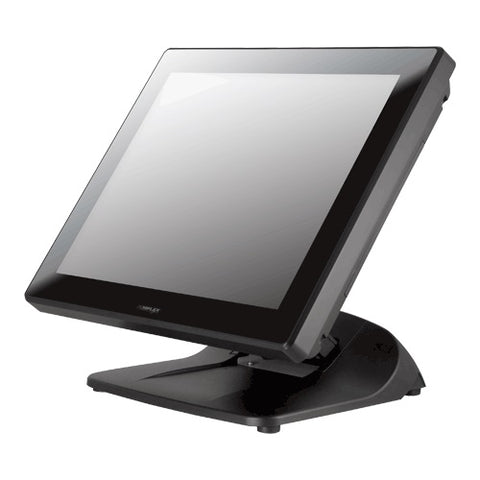 ---

NEED ASSISTANCE
Call 1300 003 767, Live Chat, mail admin@easypos.net.au

FAST SHIPPING
Fast Processing & Shipping

ONE APP FOR ALL YOUR POS NEEDS
EasyPOS Australia Download on the App Store & Google Play
POSIFLEX PS-3415E PCAP Touch 4G/64G SSD/WIN 10 IoT
SKU: PFPS3415E-4064SE
PS3415E Fanfree 15" TFT LCD PCAP touch terminal (1024*768) with Intel Bay Trail n2807 1Mb Cache, 4GB DDR3L, 64GB SATA SSD, GEN7 Base, WIN 10 IoT LTSC 64 bit Preloaded
Slim and Flexible
Streamlined design equips with a foldable base; the PS-3415 provides users with unmatched flexibility to adjust the screen to a height and angle depending on the application.
Expandable and Neat
Designed to better manage peripheral connectivity by separating a full set of ports into the top and the bottom of the terminal, the PS-3415 ensures neat, reliable peripheral cabling.
General Features 
PC POS Touch System
PCAP Touch Screen
15inch LCD 1024 x 768 Resolution
Intel J1900 Quad Core CPU up to 2.42 GHz 2M Cache and DDR3L memory
SATA SSD plus option for second mSATA SSD storage device
Gen 7 Slim Line Base
Specifications
CPU
Intel Celeron Quad Core J1900 CPU, 2.00GHz/2.42GHz (Burst) / 2M Cache
Memory
DDR3L 1333 MHz, SO-DIMM socket x 1, max 8 GB, default 2 GB
Storage device(s)
In Australia Standard with 64 GB SATA SSD, can also be purchased with larger SSD Drives.
Display
15" TFT LCD Display
Touch Panel
True-flat PCAP Touch with multitouch control (USB I/F)
I/O Ports
4 x RS-232 Ports (3 x DB9, 1 x 10 pin RJ50) with 5V/12V Support on all COM Ports
5 x Standard USB Ports
1 Proprietary USB port for side mount optional devices
1 x 10/100/1000Mb Ethernet Port
1 x VGA Port for 2nd Display (D-Sub with 12V Power for Posiflex LCD Monitors)
1 x Cash Drawer Port (Controls 2 drawers with optional Y-cable)
Optional Parallel port with Proprietory cable
Optional PS2 port with special proprietory Cable
OS Support
POSReady 7 / Windows 7 / Windows Embedded 8.1 Industry / Linux per request
Environmental Sealing
N/A
Operating Environment
0 ~ +50 °C, 20 ~ 90% RH with SSD
0 ~ +40 °C, 20 ~ 90% RH with HDD
Storage Environment
-20 ~ +70 °C, 10 ~ 90% RH
Power Supply
12V DC Power Adapter (30W)
(Optional 80W when equiped with 2nd Display)
External Dimensions (WxDxH)
372mm x 320mm x 252.7mm
Warranty
Warranty specified is Back to Base (BTB) warranty Goodson Imports P/L.
Warranty commencement date is date of hardware Invoice.
Warranty covers Manufacturers Faulty Workmanship 
Warranty excludes:
Power supply
Interface and Power Cables
Consumable products
Options
Software and Data Recovery
24 months

---

NEED ASSISTANCE
Call 1300 003 767, Live Chat, mail admin@easypos.net.au

FAST SHIPPING
Fast Processing & Shipping

ONE APP FOR ALL YOUR POS NEEDS
EasyPOS Australia Download on the App Store & Google Play