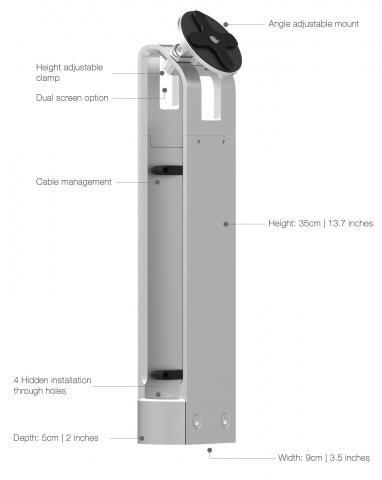 ---

NEED ASSISTANCE
Call 1300 003 767, Live Chat, mail admin@easypos.net.au

FAST SHIPPING
Fast Processing & Shipping

ONE APP FOR ALL YOUR POS NEEDS
EasyPOS Australia Download on the App Store & Google Play
Studio Proper POS Flex Stand
SKU: 3530296

Studio Proper POS Flex Stand
POSFLEXV1
The Flex Stand is a beautiful iPad stand,
designed for retail and hospitality environments.
The Flex elevates the iPad, offers angle and height adjustment, whilst managing cable neatly within the anodised Aluminium frame. With a dual iPad mount
option
, the Flex stand provides complete flexibility to be the ultimate stand for every environment.

- Anodised Aluminium components
- Simple, 4 screw install
- Mount up to two iPads of any size
- Fully angle adjustable
- Integrated cable management
- Unobtrusive, minimal & slim design
- Easy to install and remove mounted iPads
- Quick twist & lock mounting technology
General Information

Marketing Text:

Secure, counter mountable iPad stand. Capable of mounting up to two angle adjustable iPads.

PRODUCT

Brand Name:

Studio Proper

Manufacturer Web Site:

http://www.studioproper.com

Product Type:

Stand

WARRANTY

Warranty Information:

1 Year
---

NEED ASSISTANCE
Call 1300 003 767, Live Chat, mail admin@easypos.net.au

FAST SHIPPING
Fast Processing & Shipping

ONE APP FOR ALL YOUR POS NEEDS
EasyPOS Australia Download on the App Store & Google Play