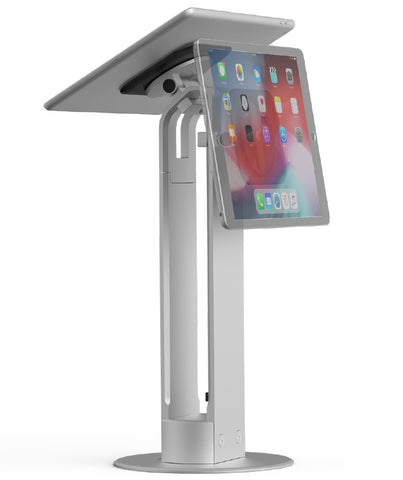 ---

NEED ASSISTANCE
Call 1300 003 767, Live Chat, mail admin@easypos.net.au

FAST SHIPPING
Fast Processing & Shipping

ONE APP FOR ALL YOUR POS NEEDS
EasyPOS Australia Download on the App Store & Google Play
Studio Proper Stand Connect Dual Tablet Kit
SKU: MSSPSPEKUDTSS1
Studio Proper Stand Connect Dual Tablet Kit
What's in the box:
- Connect Dual Tablet Stand Silver
- X2 Tablet Adapter. Compatible with all tablets.
A tall countertop stand, designed with ergonomics in mind; elevating the point-of-sale experience to a comfortable level. The Dual Tablet Stand fascilitates a friendly customer facing display system, enabling sign-on-screen, customer input, static menus, or on-screen advertising.
Features
- Mount your devices to the stand with a simple twist + click.
- Display your devices in either portrait or landscape orientation with ease.
- The stand is 350mm tall, elevated to a comfortable viewing height for all users.
- Keeping your devices locked securely in place, and keeping you stress-free.
- Keep your charging cables concealed neatly within the neck of the stand.
- 250° of angle adjustment, designed to position your device at the perfect angle.
---

NEED ASSISTANCE
Call 1300 003 767, Live Chat, mail admin@easypos.net.au

FAST SHIPPING
Fast Processing & Shipping

ONE APP FOR ALL YOUR POS NEEDS
EasyPOS Australia Download on the App Store & Google Play
---
We Also Recommend