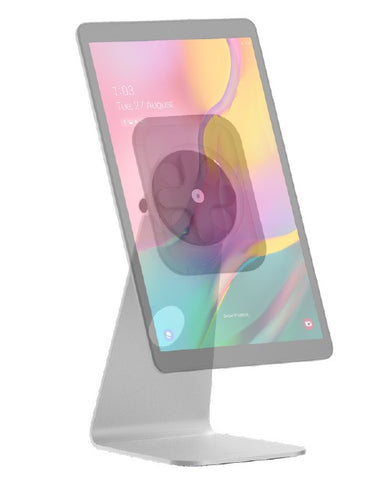 ---

NEED ASSISTANCE
Call 1300 003 767, Live Chat, mail admin@easypos.net.au

FAST SHIPPING
Fast Processing & Shipping

ONE APP FOR ALL YOUR POS NEEDS
EasyPOS Australia Download on the App Store & Google Play
STUDIO PROPER STAND CONNECT KIT
SKU: MSSPSPEKUPVS4
Connect Stand Kit
What's in the box:
- Connect Stand, Silver.
- Tablet Adapter, (Works on all handheld tablet devices with a flat rear surface area of 6x9cm.).
An elegant, light weight alternative to running your business with iPad — The Pivot Stand is easily movable, while still offering the simple and secure mounting of your device.
Features
- Mount your device to the stand with a simple twist + click.
- Ergonomically friendly with screen angle adjustment for all heights.
- Considered cable management allows you to feed your charging cable neatly through the back of the stand.
- Mount your device in either portrait or landscape orientation with ease.
- Built with precision and machined from solid anodised aluminum.
- Super light weight materials offer an easily movable point-of-sale stand.
---

NEED ASSISTANCE
Call 1300 003 767, Live Chat, mail admin@easypos.net.au

FAST SHIPPING
Fast Processing & Shipping

ONE APP FOR ALL YOUR POS NEEDS
EasyPOS Australia Download on the App Store & Google Play
---
We Also Recommend